Posted by Stik2It on 8th Oct 2015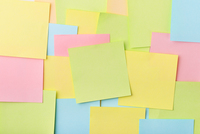 For most of us, Post-It® Notes are a handy office supply item and a necessity for every desk. We use those little neon squares for quick interoffice notes, writing our daily to-do lists, and scribbling down phone messages. But here's why they're being used you might not expect: Art. Yep, that's right. Those handy little notes are a novel medium for creative artists, and the Post-It® projects artists are creating are truly awe-inspiring.
Post-It®® Note artwork has been created in nearly every category: Stop motion animation, the visual arts, participatory art installations, and more. With Post-It® Note art, artists are only limited by their own creativity.
So what are the most creative, coolest projects that have been created with Post-It® Notes? It's a challenge to whittle it down to just a few, but these five Post-It® Note art projects are a few of our favorites. The artists matched equal parts creativity and ingenuity to produce a truly unique, visually stunning masterpiece.
1. Channeling Icons
In 2007, artist David Alvarez, a 19-year-old student at the time, envisioned a full color, mosaic portrait of one of his heroes: Ray Charles. Alvarez spent three months creating a floor-to-ceiling installation of the pop music great, using more than 2,000 colored Post-It®Notes. Celebrity wall mosaics seem to be a trend among Post-It® Note artists; also check out Marilyn Monroe, Elvis Presley, and the Mona Lisa.
2. The Power of Love
Post-It® Notes are perfect for quick little love notes. But what you do if you had 30,000 little love notes sitting around? That's exactly what happened at Brazil's Galeria Melissa. The gallery asked visitors to create short love notes, ending up with more than 30,000, and then a team of animators created 3D mosaics on the walls of the gallery. The installation was called Melisa Power of Love, and by scale alone, it's one of the most elaborate Post-It® Note art projects ever created.
3. Stop-Motion on a Deadline
What's it feel like to work on deadline? Stop-motion animation artist Bang Yao Liu tried to help us visualize it in his 2009 video: "Deadline." The work, which was created as Liu's senior project, when he was a student at the Savannah College of Art and Design, has been viewed more than 6 million times and features fun, witty stop-motion graphics created entirely from America's favorite tiny paper squares.
4. An Original Take on the To-Do List
We use Post-It® Notes all the time for simple to-do lists. Yet, this 2006 art installation took the to-do list to all new heights. Illegal Art, a New York City-based art collective that creates participatory public art projects, created a giant mosaic using sticky notes that simply said "To Do" on a street in New York. The artists then asked passers-by to write their to-do items on the notes, resulting in a collaborative work with hundreds of participants. Compared to other Post-It® Note works, this one might be the cleverest of them all.
5. Creativity to the Max
On the Post-It®'s 30th Anniversary, 3M sponsored a competition asking artists to create works of art made entirely out of Post-It® Notes. The winning submission "Mother of Creativity" was submitted by two Florida teenagers, and it features a variety of textures, a stunning design, and a vibrant color palate. What's more: The work was recreated in New York's Grand Central Station by artist Eric Daigh in 2010. The re-creation measured an eye-popping 40-feet by 44-feet, and the artist used more than 100,000 colorful squares to create it.
These are just a few of our favorites, and we could have included so many more. Artists continue to amaze us with their Post-It® Note creations. Do you think we missed any? What do you think? And if you're interested in creating your own work of art with a custom-printed Post-It® Note – contact Stik2It today!